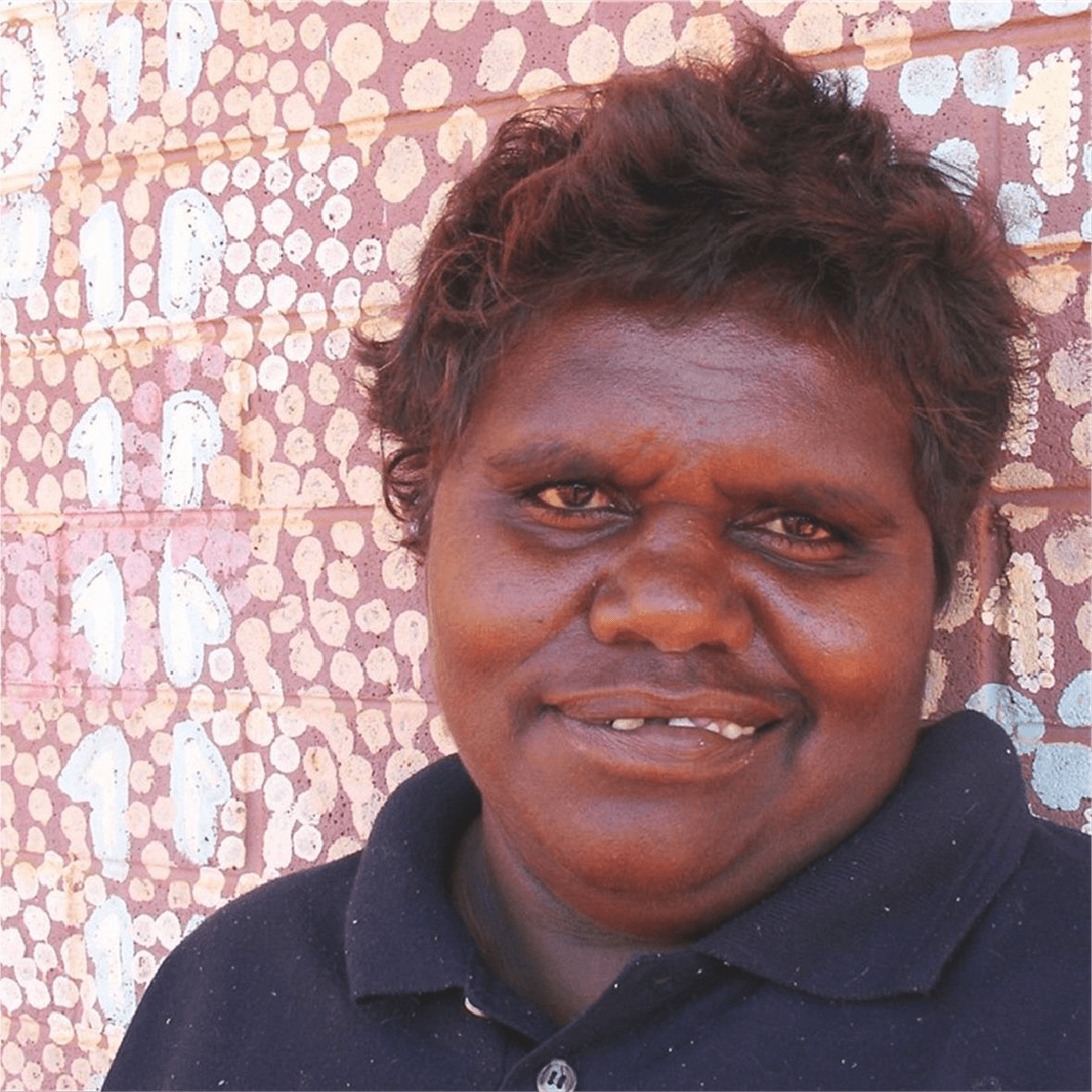 INGRID NAPANGARDIA WILLIAMS
Ingrid Napangardi Williams was born in 1976. She is the daughter of Pamela Napururrla Walker and Warren Japanangka Williams.
Ingrid began painting with the Warlukurlangu Artists Aboriginal Corporation, an Aboriginal owned and governed art centre located in Yuendumu, in 1999. She paints her father's Ngalyipi Jukurrpa [Snake Vine Dreaming] – Purturla; her mother's Yarla Jukurrpa [Bush Potato Dreaming] and sometimes her father's Wardapi Jukurrpa [Goanna Dreaming] - Yarripurlangu. These 'dreamings' relate directly to her land, stories that have been passed down through the generations for millennia. She uses an unrestricted palette to develop a modern interpretation of her traditional culture.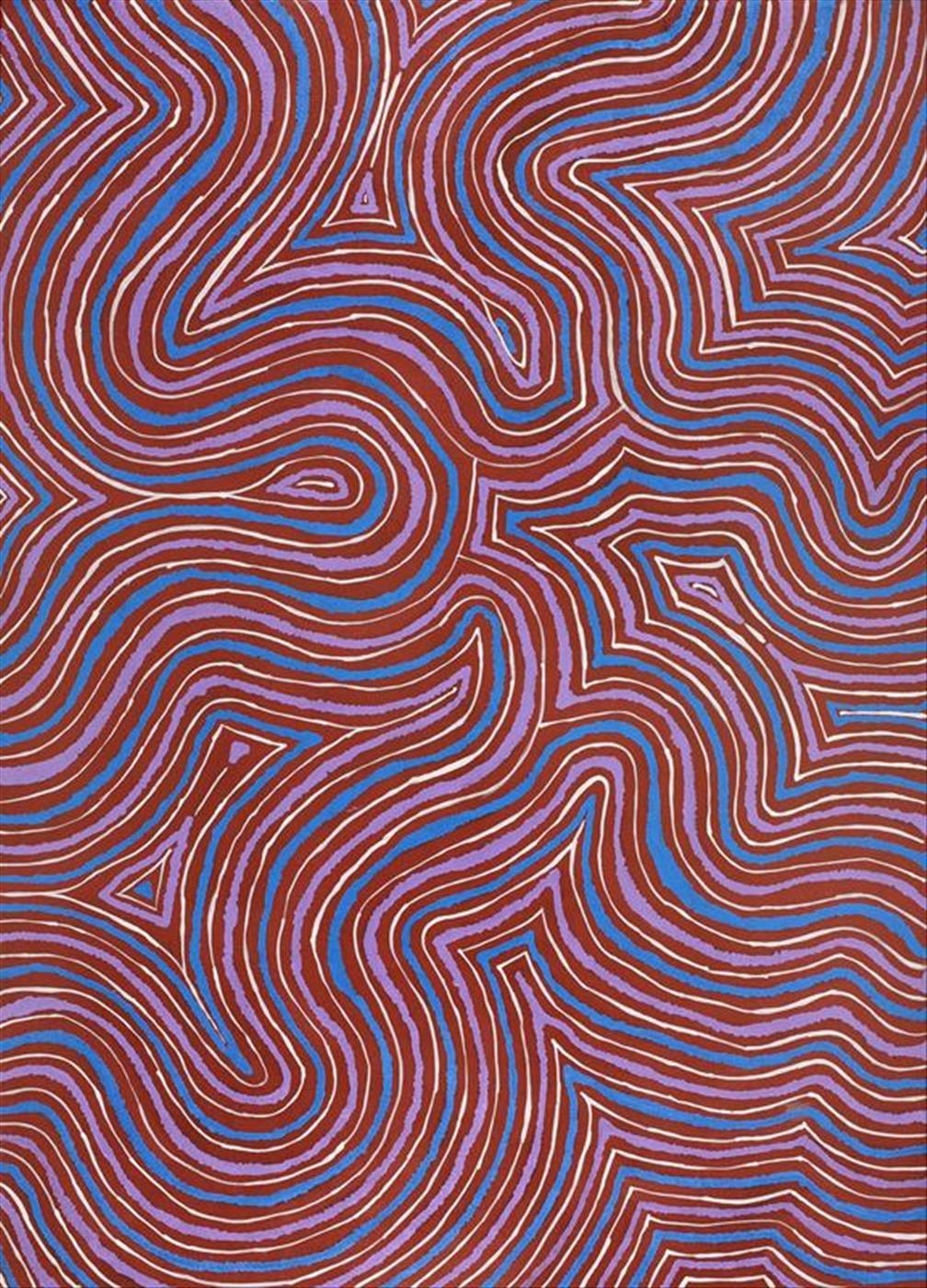 Ngalyipi Jukurrpa
The 'Ngalyipi Jukurrpa' [Snake Vine Dreaming] depicted in this painting comes from Purturlu (Mount Theo), located approximately 150kms north-northwest of Yuendumu. The 'kirda' (owners) of this Dreaming are Napanangka/Napangardi women and Japanangka/Japangardi men.
'Ngalyipi' [snake vine] is a green creeper that climbs up the trunks and branches of trees and shrubs. The plant is found on sandy spinifex plains and sandhills. 'Ngalyipi' is frequently depicted in paintings due to its many uses and its great importance in the initiation ceremonies of young Japanangka/Japangardi men. The vine can be used as a shoulder strap to carry 'parraja' [coolamons] and 'ngami' [water carriers]. The plant also has medicinal uses; its vines are used as tourniquets, and its leaves and vines are used as bandages for wounds. Warlpiri sometimes also chew the leaves to treat severe colds. 'Ngalyipi' stems can be pounded between stones and tied around the forehead to cure headaches. In men's initiation, 'ngalyipi' is used to tie the 'witi' [ceremonial poles] to the shins of the dancing initiates, and to tie 'yukurruyukurru' (dancing boards) to dancers' bodies. The initiation ceremonies associated with the 'ngalyipi' Dreaming at Purturlu are for the sons and grandsons of Japanangka and Japangardi men. Napanangka and Napangardi women dance at these ceremonies, and then look away and block their ears when the men dance. This 'witi' ceremony is performed at night under the stars.
In contemporary Warlpiri paintings, traditional iconography can be used to represent the Jukurrpa, particular sites, and other elements. In many paintings of this Jukurrpa, sinuous lines are used to represent the 'ngalyipi' [snake vine]. Straight lines are used to represent the 'witi' [ceremonial poles] and 'karlangu' [digging sticks].
Warlukurlangu Artists
Warlukurlangu Artists is one of the longest running and most successful Aboriginal-owned art centres in Central Australia. Renowned for its gloriously colourful acrylic paintings and limited-edition prints, Warlukurlangu Artists have a national and international profile, and have been featured in exhibitions and publications in Australia and around the world. Established in 1985, Warlukurlangu Artist Aboriginal Corporation is a 100% Aboriginal-owned not-for-profit organisation, owned by its artist from the remote desert
communities of Yuendumu and Nyirripi in Central Australia.
Warlukurlangu means 'belonging to fire' in the local language, Warlpiri, and is named for a fire dreaming site west of Yuendumu.